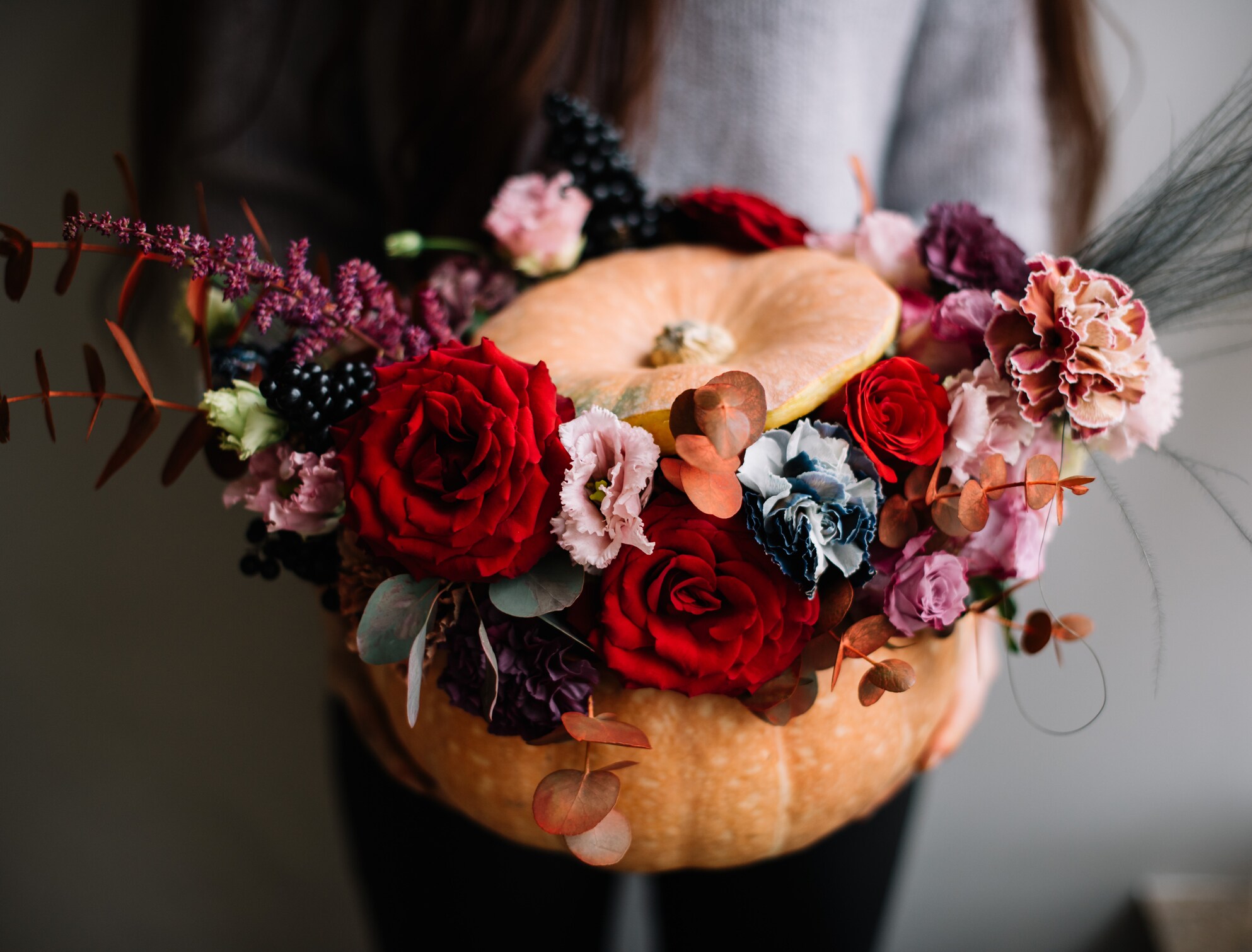 Fall Flowers: Gifts for Thanksgiving and Other Celebrations
October 29, 2021
Fall is a wonderful time of year. The leaves are changing, the air is crisp and cool, and Thanksgiving is right around the corner. Give thanks this season with fall flowers from Ashley's Flowers. Flowers can be given as gifts or used to create festive centerpieces for the Thanksgiving dinner table.
There is nothing more heartwarming than a bouquet of fresh flowers on the Thanksgiving table. We have a wonderful assortment of fall flowers that will make your Thanksgiving table look spectacular. From roses to poinsettias, we have something to please everyone on your list including bouquets with traditional autumn colors like oranges and browns, as well as brighter tones such as yellows and reds.
Creating fall-themed flower arrangements is one of our favorite parts about this season because there are so many possibilities thanks to all the different types of flowers available during this time - from chrysanthemums and marigolds to mums and poinsettias! When it comes down to it, we love everything about autumn - especially thanksgiving centerpieces decorated with beautiful fall flowers. And we just can't get enough of these gorgeous leaves changing colors.
Thanksgiving flowers are a great way to celebrate the national holiday. They add color and life to your table, which is important during this social celebration. Whether you're celebrating with family or hosting a mismatched meal for friends, there's no better way than by using flowers from your local florist that fill the room with their beauty while also representing each person eating at this joyous occasion, and reminding us why we should all be thankful.
Make your Thanksgiving table shine with a floral centerpiece
For many people, the Thanksgiving meal is one of the most cherished traditions of the year. It's a day when people gather around the table with their family and friends to enjoy delicious food, watch football games, and enjoy the fellowship while reflecting on what makes them grateful.
It's no surprise then that people want to celebrate this special occasion with some extra flair and style! Floral centerpieces play an important role in providing color and beauty on tables during dining hours. The also look fantastic next to a beautifully roasted turkey with stuffing, cranberry sauce, pumpkin pie and all our other favorites.
If you want to make your Thanksgiving table look extra-special this year, consider choosing a centerpiece from one of the many designs we have available in store or on our website. Our talented floral designers have created dozens of different thanksgiving centerpiece options - all beautifully crafted with fall colors and scents in mind - for any budget, size, or style preference. We also offer custom centerpiece design services so if there's something special you're looking for just let us know - we'll create it for you!
Our fall garden floral bouquets are carefully crafted using only the highest quality flowers from around the world to ensure long-lasting beauty that will truly impress your guests or loved ones this holiday season without breaking the bank in order to do it. Our prices vary depending on what kind of design you choose - whether simple and rustic or ornate and glamorous - but we always make sure that our products remain affordable no matter what options customers choose when designing their arrangement. Visit our website or call us at 313-259-5000 to find more information.
Flowers make fantastic gifts - we even deliver!
There are many reasons why flowers make an excellent gifts, but one thing that sets a gift of flowers apart from everything else is that they are hand-delivered - by one of our employees - straight to someone's doorstep or even their office while they're working. We never rely on people we don't know or third parties to help with deliveries. It is extremely important to us take care of your flowers every step of the way, from the moment we receive the order until we hand it to the recipient.
We put the highest value on customer satisfaction. In fact, we promise to make sure that your flowers arrive in perfect condition and on time for each and every order. We take pride in our commitment to delivering beautiful and high-quality flowers and we will do what it takes to make sure your order is the best it can be! Every order we receive is special and we take pride in ensuring that you are 100% satisfied with your purchase.
You can also send flowers as a thank-you note, or just as a way to show someone that you're thinking of them! Flowers and autumn garden hanging baskets make great gifts for neighbors, teachers, co-workers - even your favorite delivery person!
We also offer a thanksgiving flower subscription service that allows you to schedule regular deliveries of flowers throughout the year. By scheduling regular deliveries you can make sure that a loved one's home or office never lacks for beautiful, fresh flowers. We've made it easy and affordable, so don't miss out on this special opportunity to give the gift that keeps giving!
It's never too early to start planning for Christmas flowers
Ready or not, Thanksgiving inevitably turns into Black Friday, which means the commencement of the holiday shopping season! With Thanksgiving, Christmas, and Hanukah all coming up in November or December, now is the best time to order your holiday flowers.
We are always ready to help our customers check another name off their list with a beautiful gift of fresh flowers! Whether you are celebrating Thanksgiving or another holiday in the fall, our experienced designers will provide you with exactly what you need for a beautiful celebration.
At Ashley's Flowers, we are committed to providing our customers with the best selection of flowers and gifts at affordable prices. We offer same-day local delivery in Detroit, MI and surrounding areas or anywhere in the US. Whether it's a birthday, anniversary, a get well gift, or simply to make someone smile - flowers make the perfect present! Order your holiday deliveries now for the best selection and choice of delivery dates which may fill up as we get closer to the holidays.