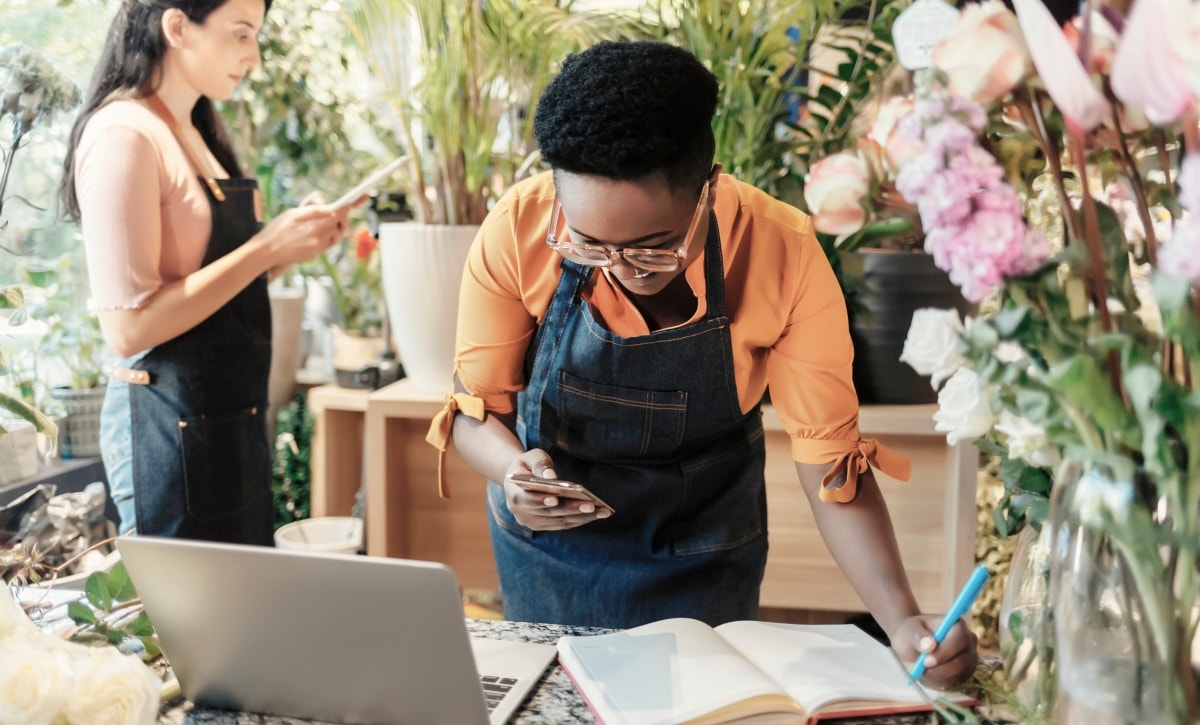 Florists Share Their Top Secrets For Ordering Flowers Online
August 01, 2022
Ask a Florist: How do I compare flowers online to find the best value? What should I know before ordering?
Ordering flowers online should be simple. But with so many options out there (and not all of them trustworthy), it is hard to know where to begin when ordering flowers online. Here are a few tips from the expert floral designers at Ashley's Flowers in Detroit, MI that are sure to help the next time you send flowers.
1) What you see is NOT what you're going to get
Picking out and ordering flowers from two-dimensional images online is a lot like ordering fast food. You hope the final product looks exactly like the big, beautiful, professionally edited picture – but unfortunately it never does.
We wish we could make every bouquet look like the perfect picture. But perfection rarely exists in nature. When you're working with perishable products like flowers, each bouquet becomes its own living work of art with its own unique nuisances and flaws.
The floral designs you see online follow strict recipes – not unlike fast food – so florists assemble the bouquet in the same way a chef would prepare a meal. They take the recipe and try to replicate it as well as they can.
Even though the recipes are the same, the results are all a little different. So, when you pick out flowers and expect the finished product to look exactly like the picture online, you'll be disappointed nearly every time.
2) In most cases online, you're comparing apples to oranges.
If you order a dozen red roses online, that is probably what you will ultimately receive. But there are more things to consider than just the price. Delivery charges and extra fees can add up quickly, so be sure to read the fine print. And remember, if an online offer online sounds too good to be true, it probably won't be so good once they add in all the extra changes and fees.
It is nearly impossible to compare florists based solely upon the offerings on their websites. Most florists use professional images, so the pictures you see online will typically not provide much of a realistic clue about the flower shop on their own. But there are a few other things you can check to give some deeper insight into the business.
Look beyond the fancy stock images and try to find some signs that the flower shop in an actual business with a real local address. You can start by doing a search for the address on Google maps. Is there an actual storefront at that address and does it look like an inviting place to shop?
Online reviews also provide important clues about the business. Pay attention to the number of reviews as well as the responses – or lack thereof – from the business owner. If they don't pay attention to these details, then what else are they missing?
3) Your best option is always ordering designer's choice
When it comes to ordering flowers, the best results come from trusting the designer's expertise. That is why the secret to getting the best possible results when ordering flowers is to order a "designer's choice" bouquet. This type of arrangement allows the florist to use their creativity to put together a beautiful one-of-a-kind arrangement using the freshest flowers they have available.
What really sets designer's choice bouquets apart from the online pictures is their lack of a pre-set recipe. Not only does that give the florist more freedom to create something unique from scratch using any flowers in stock, but it nearly always results in more beautiful bouquet for the recipient.
Another advantage of leaving the design up to the florist is that they can incorporate any specific requests you might have into the arrangement. For example, if you order a designer's choice bouquet and request that it be made with all white flowers, the florist will do their best to make that happen. Or, if you have a favorite fragrant flower you'd like to include, they can try to incorporate it too.
Of course, sometimes the recipient has a favorite flowers, or a strong preference for a certain type of flower or color. In those cases, it's best to order a specific bouquet. But if you're looking for the best possible result and are open to the florist's creativity, a designer's choice bouquet is always the way to go.
4) Give us a call – we can help you send flowers anywhere
When it comes to finding a reputable local florist, don't be deceived by fancy websites or unbelievable deals that seem too good to be true. We can help you send flowers anywhere in the United States and Canada with the help of our network of affiliated partners. This ensures that you will be working with a team of professional florists who are dedicated to creating beautiful flowers.
In addition, our network of florists offers flower delivery services, so you can have your bouquet delivered right to your doorstep – no matter where that doorstep is located. By following these simple tips, you can be sure that your next floral arrangement will be everything you hoped for – and more.
For same-day flower delivery in Detroit, MI, trust the expert floral designers at Ashley's Flowers for handmade original designer's choice designs and more. We also feature the area's largest selection of flowers and gifts for Birthdays, Anniversary, New Baby, Get Well Wishes, or simply to Make Someone Smile. Call us today at (313) 259-5000 or visit our store at 333 E Jefferson, Detroit, MI 48226