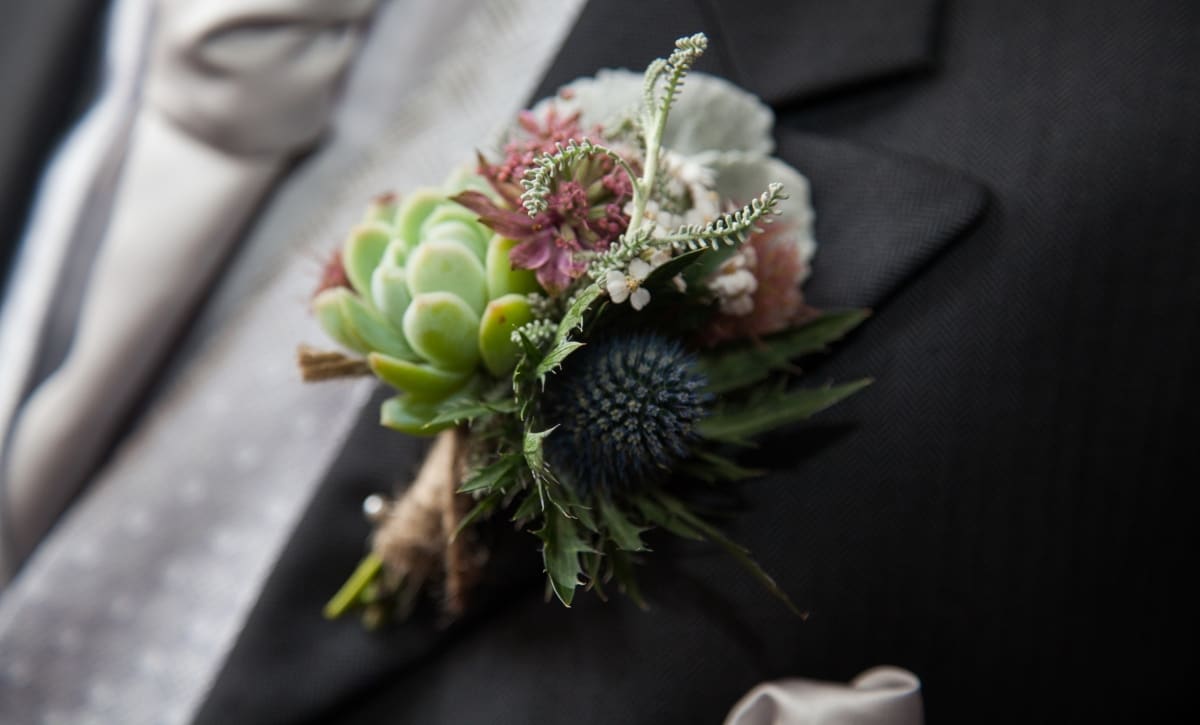 Flowers for Guys: Boutonnieres and Blooms for Fun and Formal Occasions
June 02, 2022
Flowers for guys? You bet! Boutonnieres and other blooms can add a touch of fun and formality to any occasion. Whether you're looking for a Father's Day gift, something special for your wedding party, or just want to add a splash of color to your next formal event, flowers from Ashley's Flowers in Detroit, MI are the way to go!
There are many different types of flowers that are perfect for guys - from traditional boutonnieres to modern floral arrangements with bold colors. Keep reading to learn more about these flowers and find the perfect one for your needs!
What is a boutonniere? How does it work?
A boutonniere is a small flower that is worn on the lapel of a suit or tuxedo. They are typically made with one or two flowers and some greenery. Boutonnieres are usually worn by grooms, best men, and fathers of the bride or groom at weddings. They can also be worn by anyone attending a formal event such as a prom or dance.
How boutonnieres are worn has changed over time. In the past, boutonnieres were pinned to the lapel with a boutonniere pin. Today, many florists will use a small amount of clear tape or fishing line to attach the boutonniere to the lapel. This ensures that the boutonniere stays in place and does not damage the clothing.
There are many different types of flowers that can be used for boutonnieres. The most popular flowers include roses, lilies, and carnations. However, any type of flower can be used as long as it is small and delicate.
When choosing a boutonniere, it is important to consider the color of the flowers and the time of year. For example, a boutonniere made with red roses would be appropriate for a winter wedding. A boutonniere made with yellow lilies would be perfect for a summer event.
More Great Floral Gift Ideas for Dad and Other Special Guys
Boutonnieres may be the first thing people imagine when they think of flowers for men, but they certainly are not the only choice when it comes to selecting flowers for guys. We feature a wide selection of flowers and plants including flower arrangements.
For Father's Day, consider giving your dad a floral arrangement or a potted plant. Houseplants are a great way to add some life to his home, office, or man cave. If you're looking for something more traditional, a bouquet of fresh flowers is always appreciated. Here are a few of our picks for dad this Father's Day:
Orchids
Orchids make a perfect gift for dad on Father's Day - or any other day of the year. Orchids are a type of flower that come in many different colors and sizes. They have a long-lasting bloom and a very strong fragrance. Orchids make a great boutonniere or centerpiece for any formal event and also make excellent gifts.
Carnations
Carnations are a type of flower that come in almost every color of the rainbow. They are often used in boutonnieres and corsages because they have a long-lasting bloom and can withstand being out of water for long periods of time. Because of their availability in so many different colors, we can design a personalized bouquet that matches the color scheme of his favorite sports team, club, or organization.
Succulents
Succulents also make excellent gifts for men because they are easy to care for and long-lasting. Hearty succulents come in many different colors and varieties, so it is easy to find one that dad will love. Since they require little sun, they can be placed in any room of the house and make a great addition to every type of décor.
Potted Plants
Another great gift idea for dad is a potted plant. Potted plants are available in a wide variety of sizes, colors, and shapes. They make a great addition to any office or home and can be placed on a desk, windowsill, or shelf. Potted plants are easy to care for and require very little maintenance.
Now that you know a little bit more about floral selections for guys, it's time to get shopping! Head to your local florist near me to pick out the perfect blooms for your needs.
Need some help? Our expert florists at Ashley's Flowers are always happy to assist you in finding the perfect last minute gift. Best of all, we offer same day flower delivery in Detroit, MI and can help you send flowers near me or anywhere in the U.S. and Canada with online flower delivery.
Ask about our flower subscriptions. You can send happy birthday flowers multiple times throughout the year and even choose your delivery dates. Perfect for Birthdays, Anniversary, New Baby, Get well Wishes, or simply to Make Someone Smile Call Ashley's Flowers today at (313) 259-5000 or visit our retail store located at 333 E Jefferson, Detroit, MI 48226 in the Millender Center.